THE BMA SELECTS BALTIMORE-BASED ARTIST PHAAN HOWNG AND BLUE WATER BALTIMORE FOR NEXT COMMONS COLLABORATION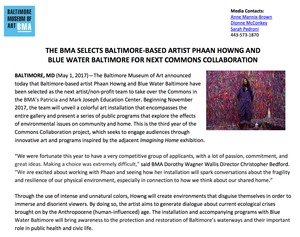 So honored and excited to be chosen for the Baltimore Museum of Art's Commons Collaboration for their third year. I will be working with Blue Water Baltimore to create an immersive installation in the BMA's Patricia and Mark Joseph Education Center that explores the effects of environmental issues on community and home. Opening is set for November for 2017 along with other exciting public events during the duration of the exhibition.
---
2017 GBCA Ruby Grantee in Media and Performing Arts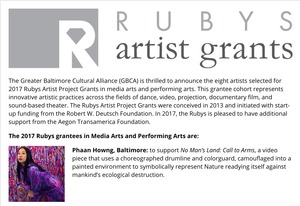 I am so happy and honored to be a grantee for 2017's Greater Baltimore Cultral Alliance's Ruby Artist Project Grants in Media and Performing Arts!This grant affords me the opportunity to start exploring video as part of my work. Video release date set for Spring of 2018.
---
Re:Art Show makes Artnet's Editors Top 8 Picks for the Week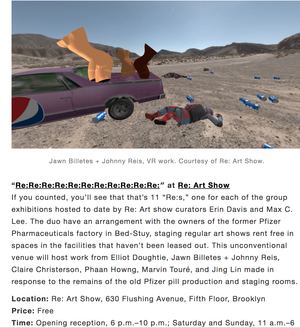 I will be participating again forthe 11th rendition of Re:Art Show, curated by Erin Davis and Max C. Lee which received Artnet's Editors' Eight Things to See in New York This Week (5/22/2017). Very excited for always being invited to be a part of their awesome program. Opens on Saturday, May 27 from 6:00pm-10:00pm at 630 Flushing Avenue, 5th Floor, Brooklyn. Free and open to the public.